Fire Damage
Tulsa Fire Damage Restoration
In the unfortunate event that you experience fire damage in your home, you should call Reset Restoration in Oklahoma for professional fire damage restoration service. It is important that the fire cleanup begins as soon as possible. Smoke residues caused fromt the fire are acidic in nature and with time they will cause surfaces to corrode and stain permanently. Smoke residues that were pressurized during the fire will permeate cracks and crevices of building materials and deposit odor-causing residues. Fire damage smoke odors can be difficult to remove due to its penetration and absorption into building materials. Reset Restoration's "Clean Trust Certified" technicians have the knowledge, products and equipment to permanently remove these stubborn odors from fire damage.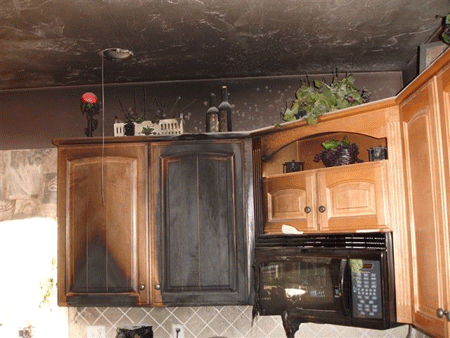 Our fire damage restoration services include:
24/7 fire damage emergency services – Guaranteed 1 hour response
Prompt fire damage assessment and estimate from Reset's "Clean Trust Certified" technicians
Emergency fire damage board up and structural stabilization
Smoke odor removal, sanitation and air purification
Soot removal, deodorization, repairs and preparation for construction caused from the fire
Careful inventorying and removal of damaged household goods, personal possessions and other contents for cleaning and restoration
Industrial grade water extractors, dehumidifiers, air movers and other equipment used to efficiently remove water resulting from fire extinguishing efforts
Reconstruction of the affected areas – Removal of damage, Replace and Restore
Disinfectants and antimicrobials used to prevent mold and mildew
Assistance with the insurance claims process
Throughout the fire restoration and rebuild process it may be necessary to remove your personal property from your home or business for better restoration and for storage until the structural repairs are completed. Reset Restoration carefully removes, inventories, packs, and assists in storing. Before the removal of contents you will be given a list of important things to keep (i.e. passports, paperwork, prescriptions, etc.) that you may require while in temporary housing.
From the boxes and tape to the transportation and storage; we provide full service personal property packing and moving.
In the event of smoke or fire damage, do the following:
Stay calm! Call Reset Restoration in Oklahoma.
Inventory contents.
Open all windows.
Empty freezer and refrigerator completely if electricity is off. Prop open doors.
Remove pets to clean environments.