Mold Remediation - Mold Removal - Mold Inspection
Tulsa Mold Remediation - Reset Restoration
What is mold or mold damage?
In natural outdoor conditions, mold is a fungus that is easily found growing and thriving. The problem arises when mold begins to grow within the confines of your home or workplace space which causes mold damage.
Mold growth is caused by invasion of excess levels of moisture to your property which over time causes damage.
It can be caused by adverse weather conditions, leaks through windows, doors or through the roof, broken water pipes or water heaters.
Moisture is harbored in the structural materials, and in the correct environment it begins to grow feeding off of organic materials around – drywall, paper, wood, etc…
The result – Mold Damage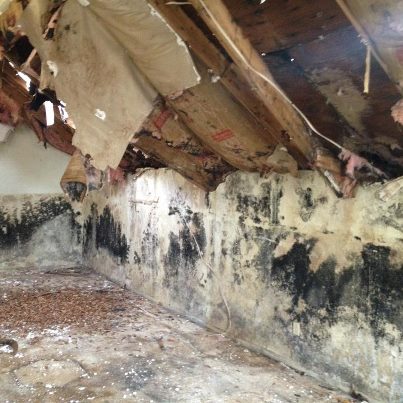 Mold growth which causes mold damage can occur in as little as 24-28 hours & requires three things to grow:
Organic food source. (Includes most building materials such as wood, drywall, insulation, etc.)
Water source. (e.g. flooding, leaks, condensation, etc.)
High relative humidity (Above 60% is ripe for mold growth. Keep below 50% to be safe.).
Our Effective and Safe Mold Damage and Remediation Service include:
24/7 Remediation emergency services – Guaranteed 1 hour response
Prompt damage assessment and estimate from Reset's "Clean Trust Certified" technicians
Elimination or remediation of the moisture source to prevent future mold growth.
Containment of the area the mold is in and prevent it from further aerosolizing and spreading through remediation.
Removal of the dead mold and spores from infected areas.
Infected areas must be treated with disinfectants and antimicrobials to protect against future mold colonization
Careful inventorying and removal of damaged household goods, personal possessions and other contents for cleaning, restoration and remediation
Industrial grade water extractors, dehumidifiers, air movers and other equipment used to efficiently remove water
Reconstruction of the affected areas- Removal of damage, Replace and Restore
Assistance with the insurance claims process
Reset Restoration's "Clean Trust Certified" technicians are extensively trained in compliance with S520standards. We can put your home back together safely and quickly. Determining the cause of your mold infestation is key to preventing reoccurrence. Once the moisture source is identified and controlled, Reset Restoration's system of containment, removal and remediation techniques and analysis will be shared with you. In most cases, a containment area will be established using impermeable plastic barriers and utilizing negative air pressure to contain spores. The HVAC system will be isolated if necessary. Proper disposition of the mold is determined by its location and the specific materials it has colonized. Removing the mold includes several options; wet washing, wire brushing, HEPA vacuuming to name a few. In some cases complete removal of infected materials is mandatory (ie. drywall). Once cleaned an area may require the application of biocides, based on EPA standards.
What to do in the event of mold damage infestation:
STOP the source of moisture if possible.
CALL RESET RESTORATION 1.888.917.3738. We specialize in mold damage remediation.